The Guild of Makers – Launch Event
Friday March 16th 2018  – Birmingham, UK.
Tickets: £39 members / £79 non-members
https://webcollect.org.uk/guildofmakers
The Maker movement is growing up – the Maker industry is here.
Cottage industries almost died with the industrial revolution, but they are now returning as the Maker industry. Hobbyists are turning professional. From knitting to electronics, wood carving to welding, Makers are turning their creative hobbies into their professions.
Dr Lucy Rogers, Maker, Engineer and Judge on BBC Robot Wars, says:
"I was looking to join a professional membership organisation for Makers but there wasn't one – so I founded it myself."
Come to the launch to meet Lucy and join her as she starts this exciting journey to set up the Guild of Makers to celebrate and encourage excellence and to support Makers, from small craftspeople to professionals.
The morning session will be talks from leaders within corporations, education and from within the Maker industry itself. The afternoon is for workshops, where you can try your hand at various making activities. You can also fit in a tour of Autodesk's new technology centre.
Speakers include:
Sir Christopher Frayling, Former Rector of the Royal College of Art, and author of On Craftsmanship, says:
"These days, if you ask someone 'what do you make?', the reply will tend to be about money and bonuses. It's becoming increasingly important – against the tide of digitisation, virtual experiences, quick-fix solutions, and suspicion of hard-won expertise – to celebrate the making of things, with care, with love and with a deep understanding of materials.
"This new Guild is a welcome initiative, bringing together Makers from various disciplines, raising their profile and providing them with visibility and a voice. 'What do you make?' /'I make things…"
Tickets available here: https://webcollect.org.uk/guildofmakers
Press Release: Launch Press Release
For Press tickets by 9th March: press@GuildofMakers.org
Where: Autodesk, Small Heath BP, Talbot Way, Birmingham B10 0HJ.
AGENDA
9:00   Registration /coffee/networking
10:00 Intro, Keynotes and Q&A Panel
12:30 Tour of Autodesk Technology Centre Facility / Lunch
Important: Flat and closed toe shoes required to access the factory.
13:30 Workshops
17:30          Close
Video and Images:
Lucy talking about Makers on BBC Robot Wars Series 8, Ep 4, 45:14-46:47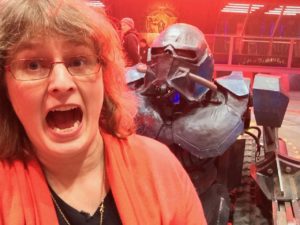 With many thanks to our sponsors:
PLATINUM SPONSOR
GOLD SPONSOR
SILVER SPONSORS
BRONZE SPONSORS
SUPPORTERS